The project
VERSION FRANÇAISE : ICI
NOTE FROM THE 2ND OF DECEMBRE 2014 : the first crowdfunding campaign for europa2014 was unfortunately unsuccessful. But this doesn't mean we give up! We will developp the idea further and come back for a more ambitious try. To be updated about the project, join our facebook page :
https://www.facebook.com/europa2014project
(We wrote a very detailed description of the project in french, to download here. We will be pleased to translate some parts on request : for this, or other questions, write us at europa2014project@gmail.com)
europa2014 is a documentary series project that will be available for free on internet, to watch online or to download. Along 6 episodes of about 15 minutes, we will meet european citizens from various social backgrounds. Through villages, towns and cities of Germany, France, Belgium, the UK and Ireland, we want to discover their wishes, their reality, how they are looking at life, the way they consider their close and distant society, and how they are part of it. The variety of points of view given by this patchwork of portraits will be the cornerstone of the project. Combining three portraits per short episode aims at giving a starting point to think about what european society is in 2014.
A sequel to the Chronicles of a European Winter
(episode 1 to watch here and episode 2 to watch there. Click on the small rectangle shaped icon at the bottom right of the video to activate subtitles, and choose your language.)
The idea of europa2014 came after leaving some questions open at the end of our previous project. After finishing the 3 documentary films of the Chronicles of a European Winter, we realized that in 2012, people living in a Greece hit very hard by the crisis were forced to redefine their life projects.
Towards what? Some interesting thoughts were emerging, but somehow diluted in the constant anxiety and instability provoked by a crisis of an intensity never seen before. We now want to develop further on this question, in countries where a common language will allow a relationship as close as possible to the people : what do people actually want for their own lives in Europe?
europa2014 is a project conceived to be part of the new production dynamics allowed by digital networks and the internet :
A presentation video of the Creative Commons license concept, which will be used for europa2014 :
- the whole series will be free to watch, share and use under the terms of the open Creative Commons license,
- a direct consequence is that our initiative is and will remain not for profit (which is guaranteed by the Creative Commons conditions),
- our only possibility is then to finance the project thanks to a crowdfunding call, aimed at covering our production costs which are precisely defined in advance.
We want to produce a documentary work for the community, financed by the community and to put aside any consideration of profit or financial returns, even in the wished case of a consequent "audience success".
What will the documentary series be like?
The main component of our project is a series of 6 documentary films of about 15 minutes, which will be released online at a weekly pace in Mai and June 2014.
Each 15 minutes long episode will be a crossed editing of three portraits of european citizens, each one of them speaking one of our three program languages : english, french and german. By talking "about life" with people coming from different countries, different social backgrounds and different kinds of surroundings, we want to show the diversity of points of view that can exist in this Europe in crisis.
The three languages will weigh equally in the program time, and the subtitles as well as the homepage will be from the beginning available in english, french and german. This makes the project international "by essence"', and it will be presented as such, without giving more importance to any country or language than to another.
A dedicated website will allow a very easy access to the content, and everything will remain online on the long term. In addition to this main site, a making-of blog will be launched as soon as the work on the project starts, to regularly publish additional contents : texts, images, short videos, links, etc.
The facebook and twitter platforms, already available, will allow a direct way of communicating with the people curious of the project.
How are we going to achieve the project?
Our team of about 10 people who met during the "Chronicles of a European Winter" project will intensively work from Decembre to Mai to produce the whole series. It will then be progressively released in Mai and June 2014.
The team of "Chronicles of a European Winter" in the french national press :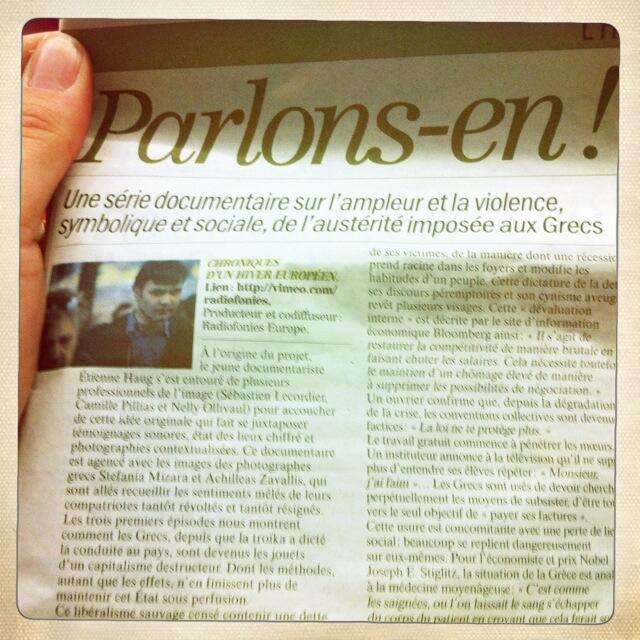 Étienne Haug as a director, producer and sound technician, Nicola Bertasi, Richard Delaume, Delphine Ménoret and Valerie Schmidt capturing moving and still images, Nelly Ollivault for the editing, Tim Kieneker and Benjamin Miller to compose an original score and Roberto Laghi, Maria Strati and the association Radiofonies Europe for the communication will spend a cumulated 250 working days in the coming months to achieve the project.
We consider that fairly rewarding this work is the priority of our budget. Technical aspects come at a secondary place. (more details below, in the budget section)
The shooting will take place in december and january, the editing from february to april and the release in mai and june.
We already have a media partner in France : the online magazine Bastamag showed interest in following the project in the long run. Once the project is funded, we hope to get many more partnerships in all the countries of english, german and french language.
Thanks already,
the team of europa2014.