The project
Gold of Bengal is a research program of the Watever association, based in Bangladesh. It aims at developing a new eco-material made of jute fiber. (http://www.watever.org/)
In 2009 Corentin de Chatelperron went to Bangladesh to work for the  TaraTari shipyard. He observed two issue :
- The growing use of fiberglass in the boat construction while this polluting material is not recyclable
- The decline of the Bangladesh jute industry, of which depend 40 million people, despite the several properties of this natural fiber.
Corentin had an idea and started his researches on a composite made of jute. He created a first material and to prove its efficiency he built a boat including 40% of jute. Aboard this boat he travelled from Bangladesh to France in 6 months
(a book is available in french: L'aventure de Tara Tari  la Découvrance editions
http://ladecouvrance.izibookstore.com/produit/99/9782842657024/Laventure%20de%20Tara%20Tari)

Back to Bangladesh he kept researching with Ary (textile engineer).
Together they develop the "Pàt", a new composite material able to replace fiberglass in several applications
Then came in march 2012 Pierre-Alain (engineer) to launch the technical jute fabric production, and Elain (From EDHEC Business School) to work on project development. In October 2012 Arthur (engineer) and Louis-Marie (Business & Development) joined the team.
Our current project is to build the first boat in Pàt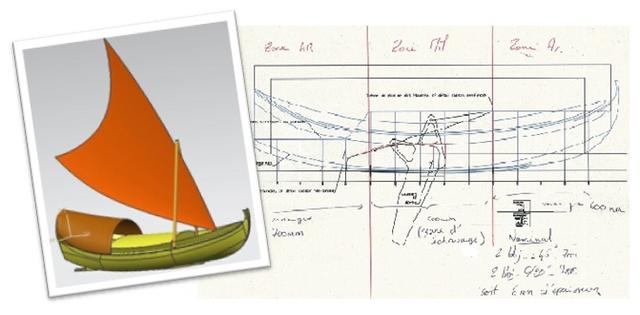 First boat built with infusion in Bangladesh - Bigger jute infusion in the world, this boat is a way to improve our researches on the material and to communicate on its potentialities
Sponsored by Roland Jourdain, this boat will allow to:
On a technical point of view:
- Improve our researches on the material.
- Test the production of big product in Pàt.
- Test the ageing of the material in water.
- Put a cost on the ecological and economical advantages of jute intead of fiberglass.
On a promotional point of view:
- Communicate on the jute fiber potentialities and natural fibers in a general way as alternative to fiberglass.
- Convince future partners to get involved in the project.
Every weeks, Gold of Bengal invites you to discover the boat construction :
from the idea to the first time in water, you will witness the scenary of this human, ecological and social adventure.
At each new episode you will learn more on the construction of "Gold of Bengal" and meet the actors of the project.
Episode 1 : The Idea
Episode 2: The Pàt
Episode 3: The Infusion
Episode 4 : Watever
Episode 6 : Le Sampan